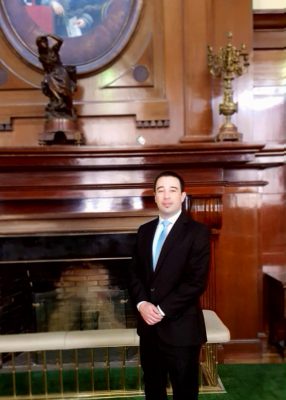 Soy abogado recibido en la Universidad Nacional de La Plata. Con mas de 10 años de experiencia en derecho informático.
Actualmente tengo el honor de desempeñar el cargo de Vicepresidente de la Asociación de Derecho Informático de Argentina y también soy miembro de la Asociación Argentina de Estudios Fiscales, así como de la Asociación Latinoamericana de Privacidad.
Comencé a investigar en el Grupo de Complejidad de la Sociedad en la Sociedad de la Información, dirigido por la Prof. Abog. Noemí Olivera, en la Facultad de Ciencias Jurídicas y Sociales de la Universidad Nacional de La Plata.
También desempeñé funciones de  secretario en el Instituto de Derecho Informático del Colegio de Abogados de La Plata desde el año 2013 al 2018, y he sido expositor en diversos congresos y jornadas en Universidades como la Universidad Nacional de Córdoba, Universidad de Cuyo, Universidad de Mendoza, Universidad Nacional de La Plata y Universidad de Buenos Aires, entre otras.

——————————————————————————————————————————————
I studied law at Law School at the University of La Plata.
As an independent professional, I specialized in computer law and began researching law and technology 15 years ago. 
Later I started teaching Informatics law at the same university.
At present, I'm a postgraduate professor at several universities and have been a speaker at multiple symposiums, congresses, and conferences related to computer law and new technologies.
I have also worked as a lawyer for ten years at ARBA, where I gained a solid background in subnational taxes. 
In the last five years, my academic and professional work has been strongly oriented toward the digital economy and asset tokenization asset. As an attorney, I represented victims in cibercrime investigations.